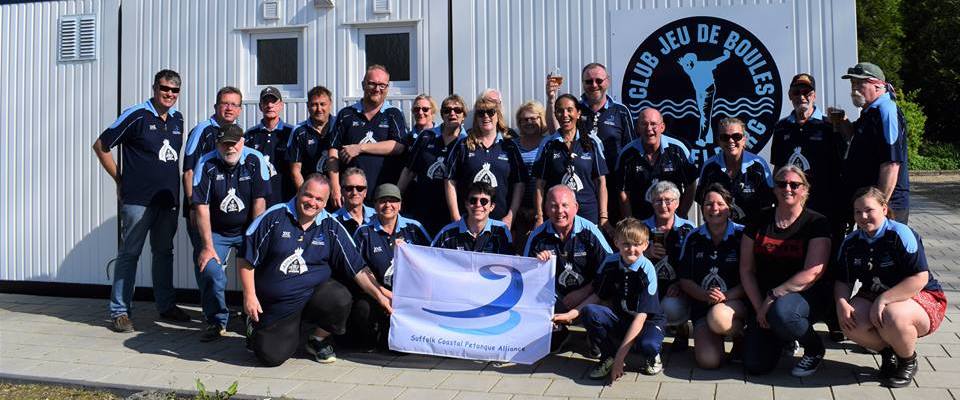 The history of the Suffolk Coastal Petanque Alliance starts back in 2007 when our President, Simon Fletcher, attended a Suffolk County Petanque Association meeting whereby it was discussed that as the Ipswich area league had been defunct since 2000, that there was surely still individuals or small isolated pockets of players that wanted to play on a regular basis.
Tasked with the mission of gathering these potential players together, Simon, in conjunction with the late Jimmy Robinson, a contact from the Aldeburgh area, who himself was looking into getting petanque set up on the coast, joined forces and got the first two pistes and loosely based club together on Aldeburgh seafront. Having organised regular club get-togthers, the Aldeburgh Carnival Pairs tournament etc, Jimmy supported Simon in assuring him that there would be sufficient interest if the ball (or boule!) was set in motion.
Through intensive internet searching, letter and email writing and general word of mouth & tip-offs, we were able to garner 9 teams together for the very first season in 2008, splitting them into 2 divisions, North and South, with 5 in one and 4 in the other. That very first Grand Final took place at the Greyhound, Pettistree. Such was the interest and success of that first season, that the following seasons registration saw us grow to 17 teams, splitting this time into 3 divisions, with the Grand Finals this time at The Star Inn, Wenhaston. From 2010 until 2016 we rose to a total of 49 teams, with many venues now having multiple teams using the same facilities.
On 1stAugust 2011, the Alliance officially announced a corporate sponsor in the shape of Adnams of Southwold and adopted the Adnams logo onto the League's kit and from 2012 onwards renamed the various divisions from Suffolk river names to various beers etc bottled by our corporate partners.
Since the inception of the Alliance, many players have gone on to become regular County & Regional level players as well as a few gaining even further recognition, such as one of our junior players at the time, captained the England Junior team at the 2013 World Junior Championships in France.
Foreign excursions have now become the norm with the League, as ever since 2012, we have organised an annual trip to Belgium initially and then in 2013 adding Holland to the travel itinerary, whereby travel to the Belgian coastline via the Channel Tunnel is undertaken. From our coastal base we usually play Friday and Saturday against local Belgian teams, one club of which we have visited every year since 2012, and then on the Sunday we travel a little further to a Dutch club where we have visited the last 6 years. This trip is normally over the first Bank Holiday weekend of May.
Establishing other events onto our league programme has now seen us have annual matches versus the Mercia Region (covering Notts, Derbyshire & Lincolnshire), the superb Moules & Boules Trophy played for in July on the Aldeburgh pistes, as well as friendly matches versus a visiting Belgian club 3 years ago, a club from Bewdley in Warwickshire, a 4-way event in at the City of Bath PC along with the Great Western Region and Carrefour PC from Jersey.
The league has remained fairly consistent in numbers over the last 2 to 3 years, with some teams disbanding and reforming elsewhere, players transferring from one club to another as in any sport and having completed our 2018 season, we had 53 teams registered.
In recent years, the league has also provided teams the opportunity to take part in the Winter League as well, and incredibly nearly 50% of the entire league membership now plays all year round with several events occurring over the Christmas and New Years period, in all weathers!!
Until the end of 2017, the League operated it's divisions on a geographical basis but in 2018, having given all teams a years notice period, we made the switch over to ability-based divisions and went through a process of grading every single team on all their results from the previous 3 seasons. The divisions were organised so that promotion and relegation will take place and during the 2019 Registration period, this movement of teams up and down will come into place. It certainly made the 2018 season more competitive for the vast majority of teams, as it pitted every team against similar quality teams within every division, with very few exceptions.
As we move into our 2019 season, we look to remain ground-breaking and setting standards for others to follow, both in terms of playing ability as well as organisational skills, especially as we see the administration of the league move from single-point control to Committee based, which should aid in the sharing of duties and responsibilities, as well as opening the doors to new ideas and innovations.
Your SCPA Management Panel
| | |
| --- | --- |
| Title | Post Holder |
| President | Simon Fletcher |
| Treasurer | Vacant |
| Fixtures Officer | Martin Inglis |
| Media and Communications Officer. | Richard Baker |
| Disputes Panel Chair | Vacant |
| Committee Member | Stephanie Adamson |
| Committee Member | Pat Clarke |